Japan Federation of Buddhist Women's Association observes Dana Day and Kisaragi-ki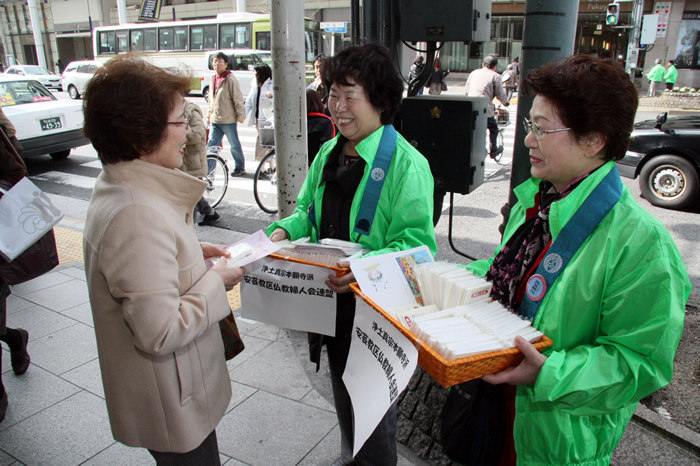 The Japan Federation of Buddhist Women's Association (BWA) promotes the practice of dana, or selfless giving, through Dana Day which is observed on the second Sunday in February every year.
On February 8, BWA members of the Aki district in Hiroshima campaigned in Hiroshima city to publicize the importance of dana.  Wearing light green jackets and shikisho (a simplified version of a kesa for lay members), the members spent an hour distributing over a thousand leaflets and BWA original pocket tissue packs.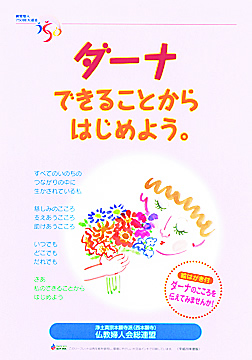 Japan Federation of BWA Remembers Lady Takeko Kujo - On February 7, the Japan Federation of Buddhist Women's Association observed Kisaragi-ki, the service to commemorate Lady Takeko Kujo for her influential contributions to the BWA organization.  The service was conducted in the Somido (Amidado) with Lady Ohtani and over 1300 BWA members in attendance.
In her speech, Lady Ohtani emphasized the importance of putting one's hand together in gassho in front of the butsudan and showing the children the way in living the life of the Nembutsu as stated in the BWA theme "Let us put the joy of life that is supported by the Nembutsu into action."  A commemorative lecture " In Memory of Lady Takeko Kujo" was given by Rev. Shohaku Asada.  Board members of the Japan Federation of BWA distributed leaflets and collected donations at Hongwanji before the service.
Lady Kujo, who was born as the second daughter of the 21st Monshu of Hongwanji, Myonyo Shonin, was a devout Nembutsu follower who not only was an avid listener of the Dharma but also took an active part in community service.  She was also the founder of the Kyoto Joshi Gakuen (Kyoto Women's Schools) and known for her poetry.  Lady Kujo passed away in 1928 at the age of 42.
To honor her great contributions, the Japan Federation of BWA holds Kisaragi-ki on February 7 every year.