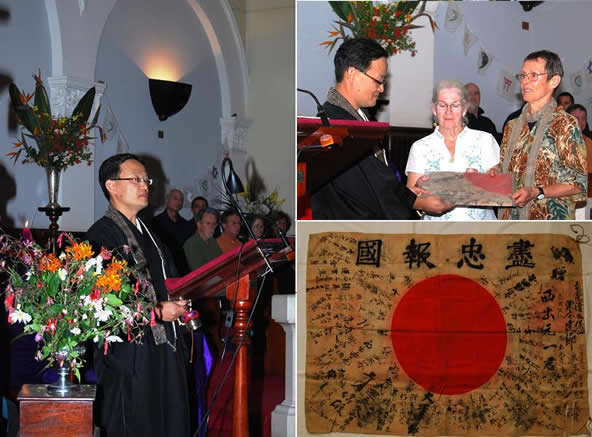 Australia- The Hongwanji Buddhist Mission of Australia Regional Superintendent Reverend Shigenobu Watanabe was invited to the Anzac Eve Ceremony earlier this year in the presentation of the Japanese war flag for which he has taken on the project of finding its owner.
In honoring the Australian and New Zealand soldiers who fought in the Gallipoli Campaign during WWI, Anzac (Australian and New Zealand Army Corps) has become designated as a national holiday.  It is observed annually on April 25 marking the anniversary of the first day of military action fought by the two countries during the First World War.  It is a time of remembrance honoring the soldiers and what resulted in the forming of close ties between the two countries.
Coinciding with Anzac Day is a peace event known as Anzac Day: Remembering and Healing Old Wounds project which includes the Anzac Eve Ceremony.  The ceremony is held to remember not only those who had served in the military but everyone including members of adversary forces who had died in the war.
The Japanese flag is said to have been confiscated at the end of World War II by an Australian war soldier and was later turned over by another veteran to Father Paul Glynn. Glynn, a Marist missionary priest and writer has dedicated much of his life work to reconciliation with the Japanese by returning confiscated items particularly war swords to the Japanese.  It was through reading one of Glynn's books that the veteran decided to turn over the flag to Father Glynn who then turned it over to Rev. Watanabe to return the flag to its rightful owner.
Watanabe is currently in the process of contacting various press organizations hoping to locate the original owner of the flag.  If you should have information or would like to assist in finding the owner, please contact Rev. Shigenobu Watanabe at telephone (02) 8901-4334 or email hbma@optusnet.com.au.
Related links     
http://top.25today.com/topics/news/nat_new/45.php (Japanese)
http://echonews.com/index.php?page=News+Article&article=26061&issue=399