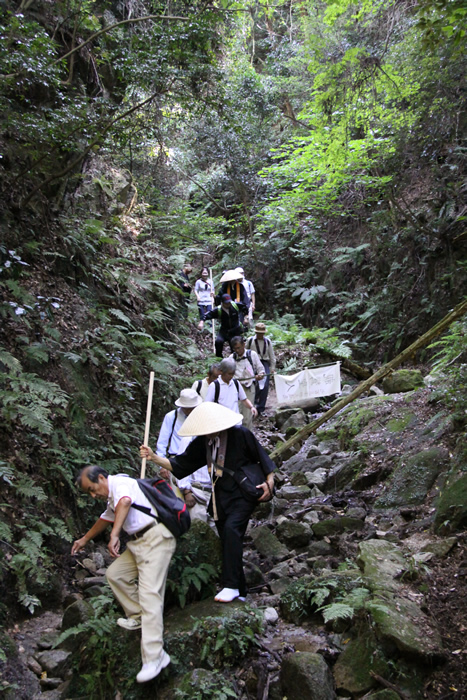 Kyoto- Earlier this year, members from the Tendai, Otani, and Hongwanji sects joined together for "Shinran-sama's otori in Kansai," a walking tour which began at Mudojidani Daijoin Temple on Mt. Hiei to the Rokkakudo Temple in Kyoto.   The group walked 18 kilometers (approx. 11.3 miles) on the path that Shinran had taken from Mt. Hiei to Kyoto for his 100-day retreat at Rokkakudo Temple.  During the course, participants made stops at Hongwanji's Kitayama Betsuin, Shoren-in, and Chion-in before arriving at Rokkakudo Temple.
In completing the walk, a participant expressed that "it was so moving that we walked in the footsteps of Shinran Shonin together.  It was also a great opportunity to get together with people from other Buddhist sects as we all prepare for the 750th Memorial for Shinran Shonin."  Rev. Sokusho Kikuzuki, a Hongwanji ordained priest was one of the event coordinators. He shared that in taking part in the walk, he gained a greater appreciation for the deep meaning of the Nembutsu teaching and reflected on how Shinran Shonin's teaching has been delivered to our hearts for over 800 years.
The event was sponsored by various Buddhist organizations in Osaka, Shiga, Kyoto, Hyogo and Nara in commemoration of the upcoming 750th Memorial for Shinran Shonin.
Excerpt from Hongwanji Journal, October 10, 2009.