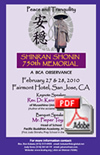 The Buddhist Churches of America (BCA) will be commemorating Shinran Shonin's 750th memorial anniversary on February 27 and 28, 2010, at the Fairmont Hotel in San Jose, California.  A symposium along with various exhibits and banquet are being planned.  The observance will conclude on Sunday, February 28, with a special commemoration service, which is open to the public free of charge.  The theme for this event, "Peace and Tranquility," has been adopted following the Hongwanji's slogan and will be the focus throughout the various programs.
The BCA National Board has designated the establishment of the Jodo Shinshu Center (JSC) in Berkeley, California as the commemorative project for the memorial.  In the spirit of Shinran Shonin's legacy of sharing the heart of the Nembutsu by making the teachings accessible to people from all walks of life, the JSC has become the BCA's educational center. Dedicated in the fall of 2006, the JSC houses a wide variety of religious education programs including the Institute of Buddhist Studies, Center for Buddhist Education, and the BCA Bookstore. Other tenants include a Hongwanji branch office out of which an international English correspondence course and ministerial training program are administered, and Ryukoku University's study abroad program.
For more information about the commemoration, please visit BCA's Shinran Shonin 750th Memorial website at http://www.ingassho.com/.