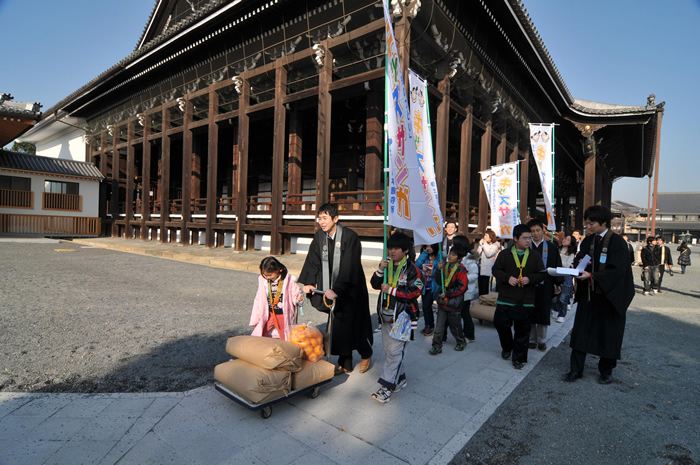 Japan- Children from Oita district's Kids Sangha visited Hongwanji in December to donate 180 kilograms (approx. 397 lbs.) of rice as part of a rice farming project.  Through the assistance of adult members of Sennenji Temple (Oita City), children planted rice seedlings earlier in May and continued to maintain the rice field until the rice was later harvested in September. 
A member, Masahide Koide, who had assisted in the maintenance of the rice field said, "Because rice is an offering to Buddha, we decided to farm the rice manually, the old-fashioned way.  I feel that the children were able to gain a first-hand experience of what their ancestors went through and gained an appreciation for the rice we eat, as well as the importance of the temple that had been felt by those before us. In continuing this and similar projects, I feel will help relay the meaning and importance of the temple to the children."  Ryota Uchida, a 6th grader who participated in the rice project expressed the difficulty of planting rice seedlings in the mud and Nao Otsu, a 5th grader felt very pleased that the rice they grew and harvested will be used for the o-buppan (offering of rice) at Honzan.
Excerpt from Hongwanji Journal, January 20, 2010.