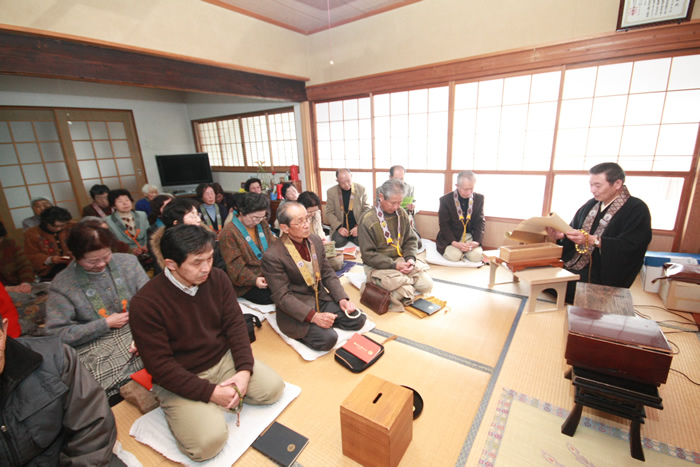 Kumamoto- Nembutsu (Jodo Shinshu) followers of Kuma district, which is located in Hitoyoshi City of Kumamoto Prefecture, have been hearing talks of the Dharma through a gathering known as Buppan-ko, which began during the time of Kakure Nembutsu.
Along with the rest of its neighboring areas, the Sagara Clan passed a policy banning any practice of the Nembutsu to the Kuma district. As a result, Nembutsu followers secretly continued to practice their beliefs and this practice has come to be known as Kakure (hidden) Nembutsu (approx. 1597-1876). It is said that it was during this period, in 1753, that the first Buppan-ko was held by the original founder, "Densuke-san". Today, the series is being conducted in 14 districts. A gathering will usually consist of a short service and Dharma talk followed by light refreshments.
As a result of the changing times, participation has dwindled drastically and at one time the Buppan-ko had been discontinued.  However, in 2002, through the determination and efforts of a few followers, participation has since grown from 130 participants to what is now 600 participants.
(Excerpt from Hongwanji Journal, March 1, 2010)
class "c" の内容がここに入ります