Hongwanji- Following the stress of the infamous entrance exams blues, spring in Japan is a time of bidding farewell to old classmates and meeting new people and making new friends, welcoming a new chapter in one's school education. On March 14, graduating students of Kyoto Women's University visited Hongwanji for a special ceremony at the Goeido (Founder's Hall). A confirmation rite ceremony was also conducted for students interested in receiving their Buddhist name. The graduation ceremony was held the following day at the Kyoto Women's University campus, located in the eastern hills of Kyoto City.
The Fukakusa campus of Ryukoku University, honored its 4,578 graduates with ceremonies held March 18-20. The ceremony program included speeches by Ryukoku University President, Rev. Dosho Wakahara and Superintendent of the Ryukoku Sogo Gakuen schools, Hongwanji Governor General Rev. Shoshin Tachibana, music performed by the university symphonic band, and a choral-type service performed by the university men's chorus. The ceremony was broadcast live via the internet by the university's movie club.
Other Hongwanji-affiliated schools conducted their graduation ceremony on the following dates:  (March 18) Musashino University, Nishi Tokyo; Soai University, Osaka city; (March 23) Hyogo University, Kakogawa, Hyogo Pref.
Nyugakushiki- a ceremony marking the start of the new academic year
April is the start of both the fiscal and academic year in Japan. During the first week, as young adults don freshly pressed business suits and enter the working force, children and college students enter a new grade. Visitations to Hongwanji were made by the following affiliated schools: Kyoto Women's University; Ryukoku University; Gifu Shotoku Gakuen Daigaku; Ryukoku Daigaku Fuzoku Heian Junior and Senior High School; Kyoto Women's University Fuzoku Elementary, Junior, and Senior High School; Okayama Ryukoku High School; Soai University.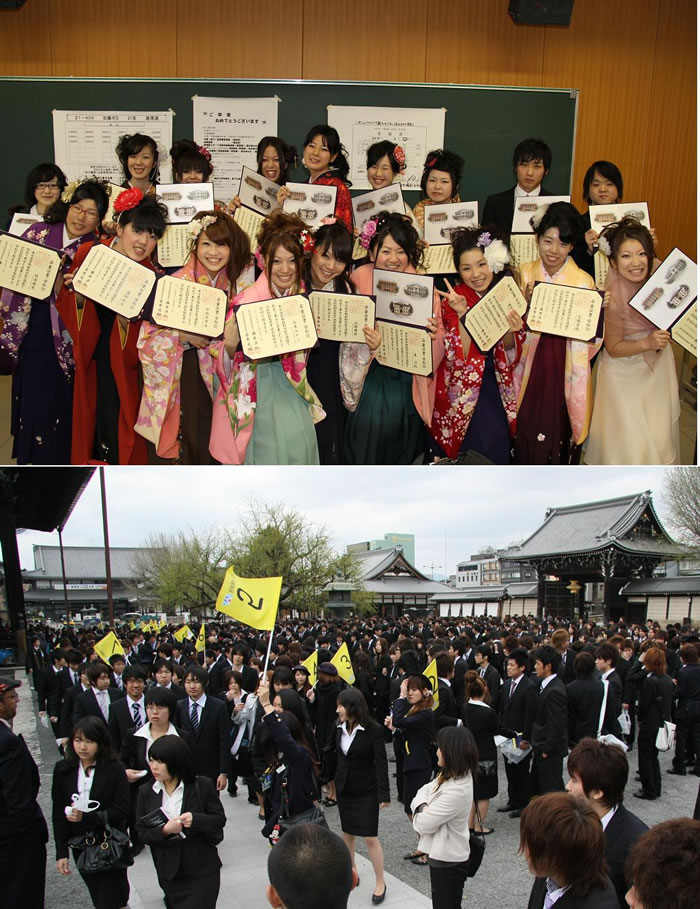 (Excerpt from Hongwanji Journal, April 1 and 20, 2010)