Japan- Beginning in 1961, Nippon Hoso Kyokai (NHK) has been producing serialized television novels, including the world famous story of Oshin. The 15-minute morning sequel currently showing, Ge ge ge no Nyobo, is the 82nd series broadcast by NHK.
"I never dreamt that a story I wrote would become a tv drama," expressed Nunoe Mura. Mura, author of the book, Ge ge ge no Nyobo- jinsei wa…owari yokereba subete yoshi (Jitsugyo no Nihon Sha, Ltd.) is the wife of Japanese horror manga artist, Shigeru Mizuki.
A story that takes place during the late 1950s in Chofu city, Tokyo, the story tells of Mura's experiences as she supports her budding-cartoonist husband amid their impoverished life.
Published in 2008, the book became a best seller, selling over 150 thousand copies.  "Despite having written the story myself, both my husband and I find the show very entertaining and I hope that many others will have a chance to watch the show as well," comments Mura.
A member of Kakushoji temple in Chofu city, Mura recently visited the temple during the Hanamatsuri observance. "Our affiliation to Kakushoji began twenty years ago, when I approached the temple with an intention to purchase a cemetery plot, concerned of my husband's interest in the underworld. The normally shy and reserved Shigeo was close with the former head minister and he helped build our ties to the temple," added Mura.
"It has been through the support of my husband that I have been able to overcome all of the hardships we went through. To find out what happens, please watch the drama, Mura humorously concluded.
Since its establishment, Kakushoji temple observed Hanamatsuri, the birth of Shakyamuni Buddha, for the first time this April. With the popularity of Ge ge ge no Nyobo, a kamishibai (the art of Japanese paper theatre) written by Shigeru Mizuki, was performed on the temple grounds to celebrate the event.
Official site for Ge ge ge no Nyobo…http://www9.nhk.or.jp/gegege/
Check local cable listings for Ge ge ge no Nyobo (Gegege's Wife, Mrs. Gegege)in your area.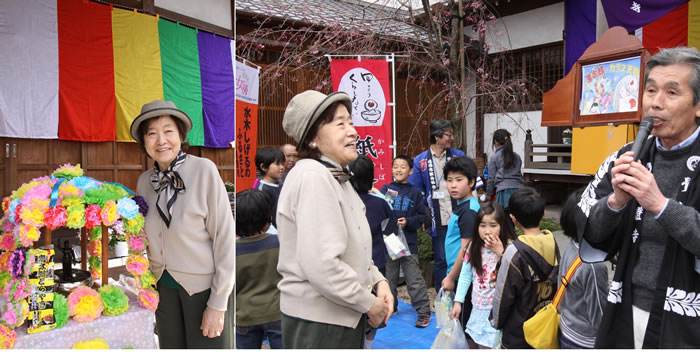 (Excerpt from Hongwanji Journal, April 20, 2010)