Temple representatives throughout Japan gather at Hongwanji for Omachiuke service
Hongwanji- Temple sodai (representatives) from throughout Japan gathered at Hongwanji on May 12 for the Omachiuke (lit., "to await") service in conjunction with its federation conference.  In his speech, Monshu Koshin Ohtani expressed his thoughts on the significance of the 750th Memorial for Shinran Shonin and the importance of the sodai organization in playing an influential role in the managing of the temple and its efforts in reaching and sharing the teaching of Amida with as many people as possible.
Conference chairperson, Masakazu Nakanishi, read a pledge on behalf of the delegates calling out to everyone in the effort to expand the circle of the Nembutsu and growth of the Hongwanji organization.
The conference program also included a discussion session during which representatives from the 5 renku districts in Japan presented concerns and possibilities of the organization's activities, followed by a Dharma talk given by the Hongwanji Jodo Shinshu Studies and Research department head, Rev. Shujo Mitsui.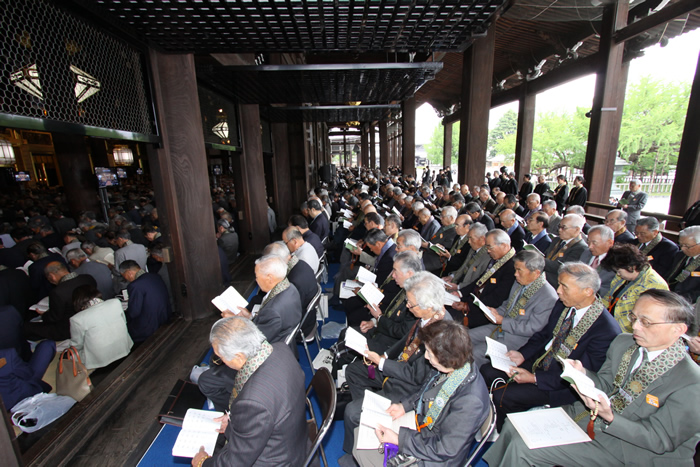 (Excerpt from Hongwanji Journal, May 20, 2010)