Hiroshima, Japan- Following an eighteen-day, 400 kilometer (approx. 259 miles) journey and walking from Hiroshima, Yoshinori Takahashi (61) wearing a worn-out fuho (priest's robe) and "holey" sneakers reached the wooden steps of the Founder's Hall at Hongwanji in time for Gotan-e, celebrating Shinran Shonin's birthday on May 21. "Words cannot express what I am feeling, but I have finally reached the temple. I am ever so grateful for this experience," said Takahashi. Sitting before the statue of Shinran Shonin and placing his sunburned hands in gassho, tears began to flow down his face from the emotions that had built up in completing this once-in-a-lifetime journey.
While serving as a fire fighter, Takahashi decided to enroll in the correspondence course offered by Chuo Bukkyo Gakuin. Despite having often been faced with life-and-death situations, he went on to comment that "life" as it is explained in the Jodo Shinshu teaching was one that had come naturally to him.
Upon retiring this past April, he decided to take on the challenge of following in the footsteps of those who had once travelled by foot to visit Hongwanji.
Carrying a flag on which his daughter wrote "Shinran Shonin 750th Memorial, Namo Amida Butsu" he left with a big send off by his family and temple priest on May 4.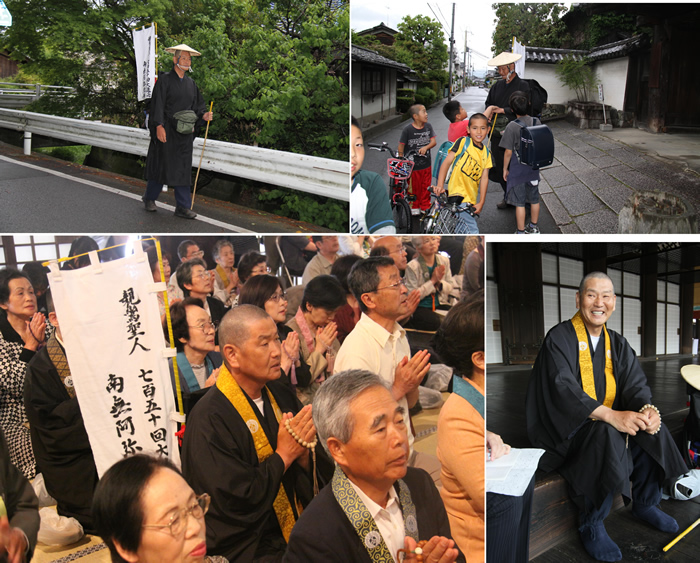 (Excerpt from Hongwanji Journal, June 1, 2010)