The 30th Anniversary marking the founding of the International Association of Buddhist Culture (IABC) was conducted on Dec 10, 2010 at the Hongwanji Monbo Kaikan (Kyoto, Japan). Members and supporters of IABC took part in a memorial service honoring Zemmon Kosho Ohtani and Lady Yoshiko Ohtani, Rev. Joryu Chiba, and nembutsu followers of Europe, followed by an address given by Shimmon Kojun Ohtani and Dharma messages by Reverends Thomas Moser (Bad Reichenhall, Germany), Fons Martens (Belgium), and Jerome Ducor (Switzerland) representing Europe. Moser, representative of Shindo, spoke about the history and present situation of Jodo Shinshu in Germany, Jikoji representative Martens shared his experience in encountering the teaching of Shinran Shonin, and a Dharma message entitled Jodo Shinshu of Europe and IABC was presented by Ducor of Shingyoji temple who emphasized the necessity in continuing to receive the support of IABC toward propagation work in Europe.
Ducor stated, "Shinshu in Europe is now at the time in which the torch must be passed on to the next generation. Development has been completed so we must now focus on progress and establish firmer grounds. Despite Shinshu being non-traditional in Europe, there continues to be devout Shinshu followers in the area and we much take action to support them from leaving. To do so, we ask you for your continued support." Ducor is planning to return for the 750th Memorial for Shinran Shonin which will be observed later this year. Following, a message was given by Monshu Koshin Ohtani.
The IABC was founded in 1980 through the generous support of Zemmon Kosho Ohtani to nurture Buddhist followers in Europe. Until today, well over 20 texts including the Shoshinge (Hymn of True Shinjin and the Nembutsu) have been translated into languages such as English and German and a European Shin Conference is conducted biannually.
To support the ongoing activities of the IABC, the association is seeking new members and interested parties. Contact the IABC office at (075)352-1839 for more information.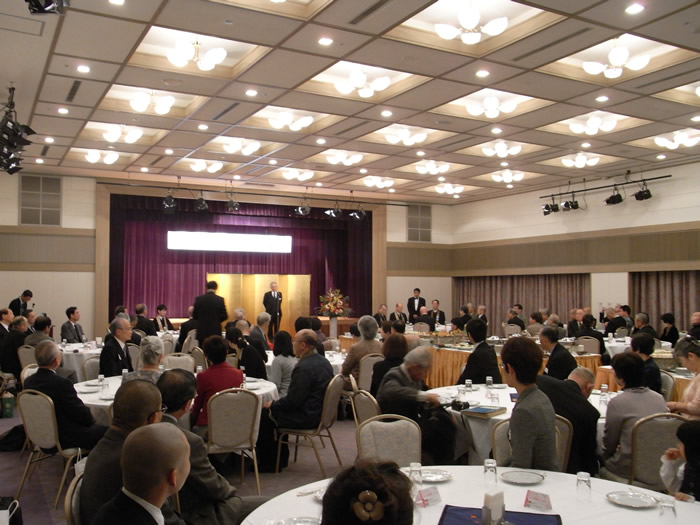 (Excerpt from Hongwanji Journal, January 20, 2011)