Mermaid, the swimming endoscope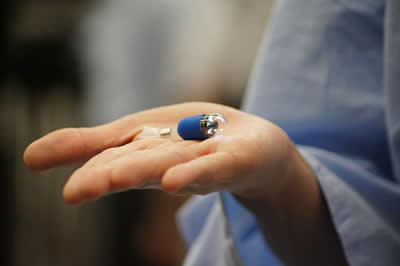 Japan- Researchers from Hongwanji affiliate Ryukoku University and Osaka Medical College have joined together in development of a self-propelled capsule endoscope.
The capsule measuring 4.5 cm in length and 1 cm in diameter, has a tail fin-like wireless driving gear that allows the doctor to control its direction and location using a remote control to obtain precise images of the patient's internal system. It is anticipated that the swimming endoscope nicknamed "Mermaid," will be available in the near future capturing precise images including that of the stomach and small intestine.
Naotake Otsuka, professor emeritus of Science and Technology at Ryukoku University (Otsu, Shiga Prefecture) comments, "After clinical testing, we are aiming to be ready for the global market about a year from now. We want it to be a product that will make examining as easy as possible."
(Excerpt from Hongwanji Journal, September 10, 2011)